Rocket Bounce House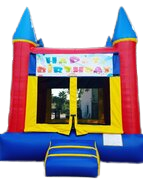 Description
Introducing the Rocket Bounce House, the ultimate inflatable attraction that will take your event to new heights! Available for rent from Jumping Fiesta Rentals in Cypress, Texas, this thrilling bounce house is sure to be the highlight of any party or gathering.
Designed to resemble a colorful rocket ship, this bounce house will ignite the imagination of children and provide endless hours of fun. With its vibrant red, blue, and yellow exterior, it will instantly grab the attention of everyone in the vicinity.
Safety is our top priority, and this bounce house is no exception. It is constructed from durable, high-quality materials that are built to withstand hours of bouncing and play. The enclosed design ensures that children can jump and bounce to their heart's content while staying securely within the confines of the inflatable walls.
Measuring 14 feet in length, 14 feet in width, and 14 feet in height, the Rocket Bounce House offers ample space for multiple children to enjoy at once. Whether they are soaring through the air or bouncing around with friends, this inflatable attraction guarantees non-stop entertainment.
Setting up the Rocket Bounce House is a breeze. Our professional staff will deliver and set up the bounce house at your desired location, ensuring a hassle-free experience for you and your guests. We will also provide clear safety instructions to ensure everyone can enjoy the bounce house responsibly.
Perfect for birthday parties, school events, or any occasion that calls for excitement, the Rocket Bounce House is a surefire hit. Book this thrilling inflatable attraction from Jumping Fiesta Rentals today and watch as your event takes off into a world of fun and adventure!