Criss Cross Basketball Game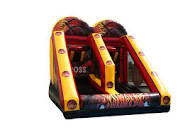 Description
Introducing the Criss Cross Basketball Game, the ultimate competitive race for all ages! This exhilarating game combines the thrill of a fast-paced race with the excitement of basketball, creating an unforgettable gaming experience for players.
The objective of the Criss Cross Basketball Game is simple yet challenging - race against your opponents to score as many baskets as possible within a given time frame.
Whether you're organizing a friendly competition among friends and family or planning a corporate team-building event, the Criss Cross Basketball Game is the perfect addition to any gathering. It promotes healthy competition, teamwork, and enhances hand-eye coordination, making it an ideal choice for both indoor and outdoor settings.
Invest in the Criss Cross Basketball Game today and bring the thrill of a competitive race combined with the love for basketball to your next gathering. Get ready to test your skills, challenge your opponents, and create unforgettable memories with this exciting game.