4 Tables & 24 Chairs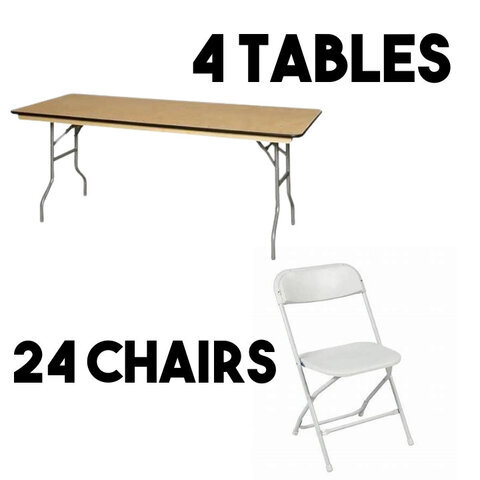 Description
Introducing our 4 Tables & 24 Chairs Package Rental in Cypress, TX! Perfect for any event, big or small, this package is designed to provide you with the necessary furniture to accommodate your guests comfortably and in style.
Our tables are made from durable materials, ensuring stability and longevity. Each table measures [insert dimensions], providing ample space for your guests to enjoy their meals or engage in activities. Whether you're hosting a wedding, birthday party, corporate event, or any other gathering, these tables will serve as the perfect centerpiece for your setup.
Accompanying the tables are 24 chairs that are both comfortable and elegant. Crafted with ergonomic design in mind, these chairs offer optimum support for your guests, allowing them to sit back and relax throughout the event. With their sleek and modern appearance, these chairs will add a touch of sophistication to any occasion.
At [Your Company Name], we understand the importance of convenience and efficiency when it comes to event planning. That's why we offer this comprehensive package, ensuring that you have all the necessary furniture in one convenient rental. No need to worry about sourcing individual pieces or coordinating different rentals – we've got you covered.
Our team is dedicated to providing exceptional customer service, ensuring that your event goes off without a hitch. We take pride in delivering clean and well-maintained tables and chairs, guaranteeing a professional and polished look for your event space.
So, whether you're hosting a backyard barbecue, a corporate luncheon, or a grand wedding reception, our 4 Tables & 24 Chairs Package Rental in Cypress, TX is the perfect solution. Contact us today to reserve your package and let us help you create an unforgettable event experience for you and your guests.