48in Round Wood Table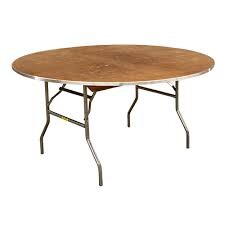 Description
Introducing our 48in Round Wood Table Rental, the perfect addition to any event or gathering. Crafted from high-quality wood, this table exudes elegance and sophistication, making it a versatile choice for both formal and casual settings.
Featuring a spacious 48-inch diameter, this round table comfortably accommodates up to six guests, fostering a warm and intimate atmosphere for conversations and shared moments. Its sturdy construction ensures stability, allowing your guests to dine, work, or socialize with peace of mind.
The timeless design of this wood table effortlessly complements various decor styles, making it an ideal choice for weddings, parties, corporate events, or even family gatherings. Its natural wood finish adds a touch of warmth and charm to any space, creating a welcoming ambiance that guests will appreciate.
Transporting and setting up this table is a breeze, thanks to its lightweight yet durable construction. Whether you're hosting an indoor event or an outdoor gathering, this rental table is designed to withstand the elements, ensuring long-lasting use and exceptional performance.
At [Your Company Name], we prioritize customer satisfaction and strive to provide top-notch service. Our 48in Round Wood Table Rental is meticulously maintained, ensuring that it arrives at your event in pristine condition. Additionally, our friendly and professional team is always available to answer any questions or concerns you may have.
Elevate your event with our 48in Round Wood Table Rental. Contact us today to reserve this versatile and stylish table for your upcoming occasion.