3 Tables & 18 Chairs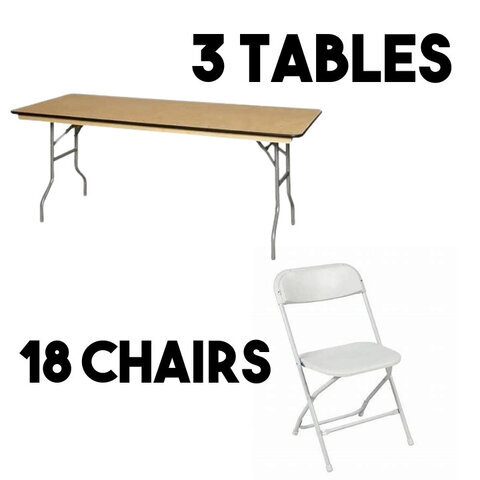 Description
Introducing our 3 Tables & 18 Chairs Package Rental in Cypress, TX! Perfect for any gathering, whether it's a backyard barbecue, a birthday party, or a corporate event, this package provides you with all the essential seating and table space you need.
The package includes three sturdy and stylish tables that can accommodate various setups. Whether you prefer a long banquet-style arrangement or separate tables for different activities, these tables can be easily arranged to suit your needs. Each table is made from durable materials, ensuring stability and longevity.
To complement the tables, we also provide 18 comfortable chairs. These chairs are ergonomically designed to provide maximum comfort, allowing your guests to relax and enjoy the event. The chairs are lightweight and easy to move, making it convenient to adjust seating arrangements as required.
Our package is not only convenient but also cost-effective. Renting this package saves you the hassle and expense of purchasing tables and chairs that you may only need for a single event. Plus, our rental service takes care of delivery and pickup, so you can focus on planning the rest of your event.
At [Your Company Name], we prioritize customer satisfaction. Our tables and chairs are regularly inspected and maintained to ensure they are in top condition. We understand that every event is unique, so we are happy to work with you to customize the package to meet your specific requirements.
Don't let the lack of seating and table space limit your event's potential. With our 3 Tables & 18 Chairs Package Rental in Cypress, TX, you can create a comfortable and inviting atmosphere for your guests. Contact us today to reserve this package and make your event a success!