2 Tables & 12 Chairs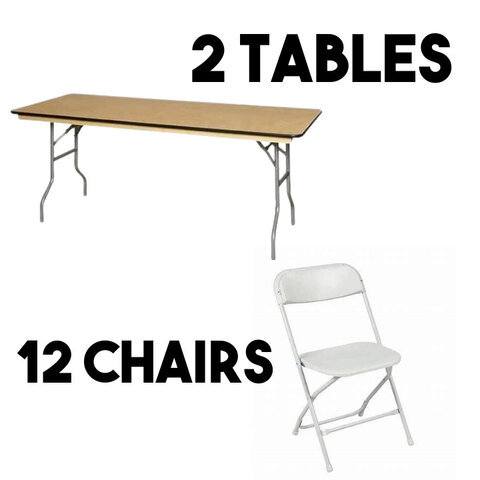 Description
Introducing our 2 Tables & 12 Chairs package rental in Cypress, TX! Perfect for any event or gathering, this package provides you with all the essential furniture you need to create a comfortable and stylish seating arrangement.
Our tables are made of durable materials, ensuring stability and longevity. With a sleek design and ample surface area, they are ideal for placing food, drinks, or decorations. Whether you're hosting a birthday party, a wedding reception, or a corporate event, these tables will add a touch of elegance to your setup.
Accompanying the tables are 12 chairs that are both comfortable and sturdy. Designed with ergonomic considerations in mind, these chairs provide excellent support for your guests, ensuring they can relax and enjoy the event to the fullest. The chairs are lightweight and easy to move around, making them versatile for any occasion.
Our 2 Tables & 12 Chairs package rental is a convenient and cost-effective solution for your seating needs. Whether you're planning a small gathering or a large-scale event, this package offers everything you need to create a functional and visually appealing seating arrangement.
Contact us today to book our 2 Tables & 12 Chairs package rental in Cypress, TX, and let us help you make your event a memorable one!