22ft Purple Crush Dual Lane Water Slide w/ Pool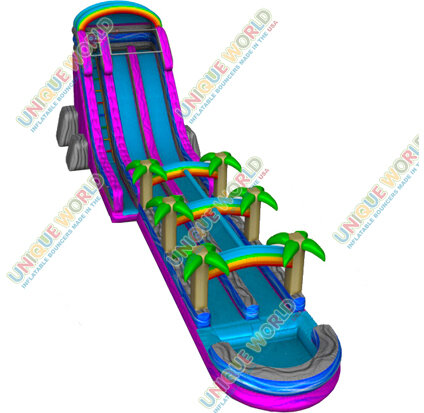 Description
Slip & Slide NOT Included!
Introducing the exhilarating 22ft Purple Crush Dual Lane Water Slide with Pool, available for rent from Jumping Fiesta Rentals in Cypress, TX. This vibrant and thrilling water slide is perfect for all ages, ensuring a memorable and fun-filled experience for your next event or party.
Standing tall at 22 feet, this water slide is a true showstopper. Its eye-catching purple and blue color scheme, coupled with its impressive size, will instantly draw attention and create a sense of excitement among your guests. The dual lanes allow two participants to slide down simultaneously, adding a competitive element to the fun.
As you climb to the top, anticipation builds, and once you reach the summit, get ready for an adrenaline rush like no other. Feel the rush of the cool water as you slide down the steep and slippery slope at lightning speed. The refreshing water sprays along the sides of the slide, ensuring a smooth and fast descent.
At the bottom, a refreshing splash pool awaits, providing a safe landing for participants and a perfect spot to cool off. Whether you're looking to beat the summer heat or simply add some excitement to your event, this water slide with pool is an ideal choice.
Safety is our top priority, and this water slide is designed with that in mind. It features high side walls and safety netting on the top to prevent any accidents or falls. Additionally, our team at Jumping Fiesta Rentals ensures the equipment is thoroughly inspected and cleaned before each use, guaranteeing a safe and hygienic experience for everyone.
Renting the 22ft Purple Crush Dual Lane Water Slide with Pool from Jumping Fiesta Rentals is a hassle-free experience. Our friendly and professional staff will deliver, set up, and take down the equipment, allowing you to focus on enjoying your event. We provide exceptional customer service and strive to exceed your expectations every step of the way.
Don't miss out on the opportunity to create lasting memories and provide endless entertainment for your guests. Contact Jumping Fiesta Rentals today to reserve the 22ft Purple Crush Dual Lane Water Slide with Pool for your next event in Cypress, TX.