18ft Turbo Double Water Slide w/ Pool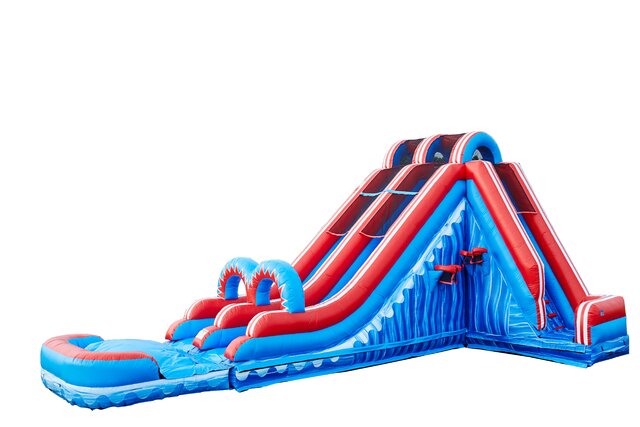 Description
Looking for an exhilarating way to beat the summer heat? Look no further than the Turbo Double Water Slide with Pool, available for rental from Jumping Fiesta in Cypress, Texas. This incredible water slide is guaranteed to provide hours of non-stop fun and excitement for kids and adults alike.
Featuring a double lane design, the Turbo Double Water Slide allows two participants to race against each other, adding a friendly competitive element to the experience. As you climb to the top of the slide, anticipation builds, and the rush of adrenaline kicks in. With a quick countdown, you'll plunge down the slippery slope, zooming towards the refreshing pool at the bottom.
Constructed with high-quality materials, safety is a top priority with the Turbo Double Water Slide. The slide is equipped with safety netting on the sides to ensure that participants stay within the designated area, while the pool at the end provides a soft landing. Additionally, the slide is constantly sprayed with water, keeping it slick and slippery for maximum sliding enjoyment.
Perfect for backyard parties, birthdays, or any outdoor event, the Turbo Double Water Slide is a surefire way to create lasting memories. Whether you're hosting a small gathering or a large celebration, this water slide is suitable for all ages and will keep everyone entertained for hours on end.
Renting the Turbo Double Water Slide from Jumping Fiesta is a breeze. Their friendly and professional staff will deliver and set up the slide, ensuring that everything is in perfect working order. After your event, they will promptly return to dismantle and collect the equipment, so you can focus on enjoying the day without any hassle.
Don't let the summer heat get the best of you. Make a splash and turn your event into an unforgettable experience with the Turbo Double Water Slide with Pool from Jumping Fiesta in Cypress, Texas. Book your rental today and get ready for a wet and wild adventure!