17ft Hoover Dam Slide w/ Pool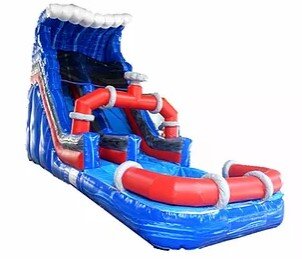 Setup Area: 25ft L x 18ft W x 22ft H
Actual Size: 20ft L x 13ft W x 16ft H where they slide from
Description
Introducing the exhilarating 17ft Hoover Dam Slide with Pool rental from Fiesta Party Rentals in Cypress, Texas! Prepare for an unforgettable experience that will make a splash at your next event.
This towering inflatable slide stands an impressive 17 feet tall, towering above the crowd and capturing everyone's attention. With its vibrant colors and eye-catching design, it adds a touch of excitement to any party or gathering.
Thrill-seekers of all ages will love the heart-pounding adventure of climbing to the top of the slide and then zooming down at lightning speed. As you descend, feel the rush of the wind in your hair and the excitement building up inside you. It's an adrenaline-pumping experience that will leave you wanting more.
But the fun doesn't stop there! At the bottom of the slide, a refreshing pool awaits, providing the perfect landing spot for a cool and refreshing splash. Whether you're a daredevil looking for an adrenaline rush or simply want to relax and cool off, this slide with pool combo has got you covered.
Safety is always a top priority, and Fiesta Party Rentals ensures that their equipment is of the highest quality and meticulously maintained. Their team of professionals will set up the slide with pool at your desired location, ensuring a hassle-free experience for you and your guests.
Ideal for birthday parties, corporate events, school functions, or any celebration that calls for excitement and fun, the 17ft Hoover Dam Slide with Pool rental from Fiesta Party Rentals is a must-have addition to your event. Don't miss out on the opportunity to create lasting memories and provide hours of entertainment for everyone.
Book your rental today and get ready to make a big splash with the 17ft Hoover Dam Slide with Pool from Fiesta Party Rentals in Cypress, Texas!