16ft Tsunami Water Slide w/ Splash Pad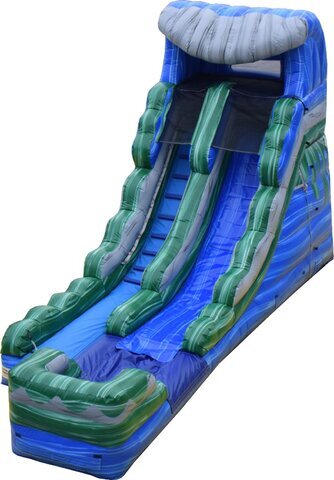 Description
Introducing the exhilarating 16ft Tsunami Water Slide with Splash Pad rental from Jumping Fiesta in Houston, Texas! Prepare for a thrilling adventure that will make a splash at your next event.
This impressive water slide stands at an impressive 16 feet tall, making it a true centerpiece for any occasion. With its vibrant colors and eye-catching design, it will instantly attract the attention of guests of all ages.
Equipped with a splash pad at the bottom, this water slide offers a refreshing landing for those who dare to take the plunge. The splash pad provides a safe and enjoyable area for kids to cool off and have endless hours of fun.
Safety is our top priority, and this water slide is no exception. Crafted from durable materials and designed with safety features such as high side walls and safety netting, you can rest assured that your guests will have a secure and enjoyable experience.
Whether you're hosting a birthday party, a corporate event, or a community gathering, the 16ft Tsunami Water Slide with Splash Pad rental is guaranteed to provide hours of entertainment and create lasting memories.
At Jumping Fiesta, we take pride in delivering exceptional customer service and ensuring a hassle-free experience. Our team will handle the setup and takedown of the water slide, allowing you to focus on enjoying the event and creating unforgettable moments.
Don't miss out on the opportunity to make a big splash at your next event. Contact Jumping Fiesta today to reserve the 16ft Tsunami Water Slide with Splash Pad rental and turn your gathering into an unforgettable aquatic adventure.